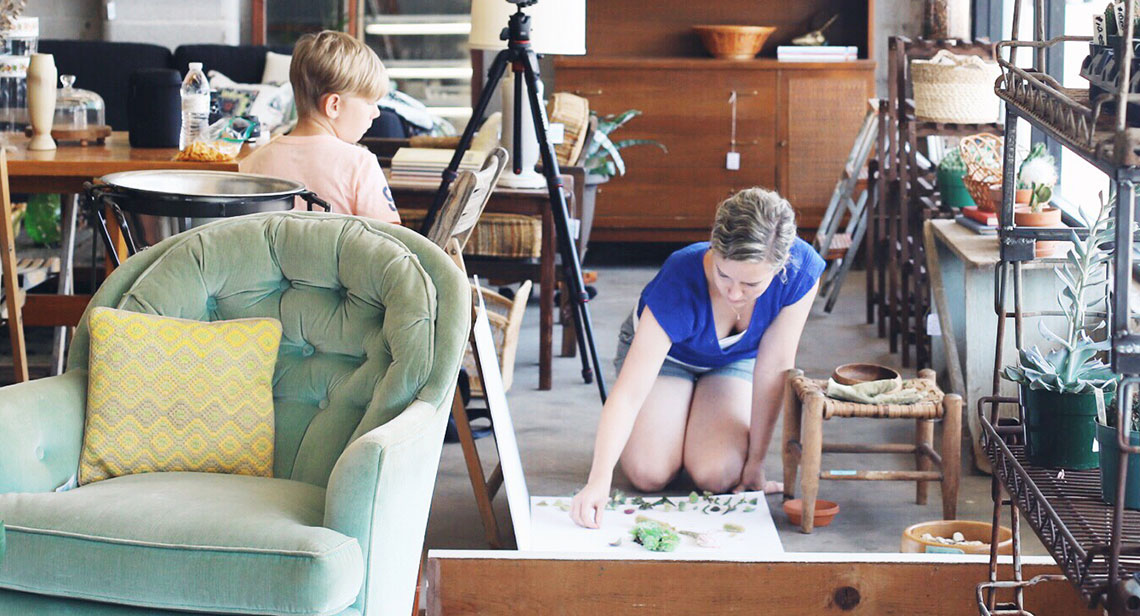 Artist Profile: Meet Evie Shaffer
Evie Shaffer is an award-winning artist and photographer. She designed the Bold Botanicals and Lush Flora puzzle for us. And we have another puzzle from Evie coming out later this year. We interviewed Evie and talked about her journey as an artist. Enjoy!
1. You are clearly an artist at heart. When did you realize you wanted to do art full-time?
When my children were small. Time slowed down for me, and I was really struggling in my purpose as a mom. I had all these ideas and artistic urges that I just didn't have time for - having two little ones under the age of two. I began cataloging my ideas though. I picked up a digital camera and carried it around and started capturing those slow, simple, yet beautiful moments. It really taught me to enjoy simplicity, and the beauty in seemingly overlooked moments and details. I gained a lot of clarity in those years.
2. What draws you to include nature in most of your pieces?
My love for nature was cultivated from a young age. I inherited my Grandpa's flower press that he made, and started to collect things that I found on walks. When we traveled in an RV, it made me want to capture the diversity and beauty in each place we visited, so I started to gather what my kids and I collected, and nature vignettes were born. There is so much symbolism and parallels to life when you explore the natural world. It keeps me coming back with curiosity again and again, just for the thrill of discovering something new.
3. Where/how do you find all of the amazing flowers and botanicals for all of your photos?
So much is found in the wild. There are a couple of great florists that I have relationships with here in town if I need help sourcing something specific. There is also a locally owned greenhouse that has beautiful plants all year long if I need those pops of color for something like the Lush Flora and Bold Botanical puzzles.
4. Can you describe your process for creating a design like you did for the Lush Flora and Bold Botanicals puzzles?
The first thing is to decide on a theme. For these, I knew I wanted to go bright, and tropical. I purchased potted plants and bouquets, giving me a variety of scale, shapes, and colors. I arranged the blooms on a white background, usually just a poster board you can get from the craft store. Composition is important in the arrangement, so my background in graphic design comes in handy here. I choose one or two pieces to be the focal point in the middle, and work my way around it to create the circle. The Lush Flora puzzle was purely a happy accident...I bunched up everything I used for the Bold Botanical puzzle in a tight circle. It was effortless, and it just worked. They are both so unique in their own right though, even though they use the exact same pieces.
5. We have been working on another puzzle design coming this winter called "Nature in Nocturne". Can you tease us with a little description of that one?
For Winter, we have a dark and moody vibe going on. Completely opposite mood from the Summer puzzles as the bright hues evanesce into more dark tones. There is a stillness to the Winter season, but yet life and beauty, and that's what Nature in Nocturne feels like visually. I can't wait for you to see it!
---
You can follow Evie Shaffer on Instagram at @evieshaffer or visit her website at evies.com
You can view Evie's puzzles here: